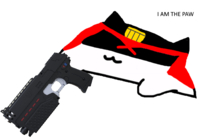 Rangerkrauser is from Melbourne, Victoria, Australia.
Seven Answers
What is one thing women do that grosses you out? And men?
For both genders, having too much ego. Sure, trusting yourself is good, but that's how life works - too much of something and it becomes a liability.
Would you like to live to be 200 years old?
Nope. I wouldn't - too old to do anything, no friends left, no family.. Nah, thanks. I'm good.
Would you rather be a hobbit or an elf for 24 hours?
Elf. Already have the tall height IRL, just need the ears.
If a theme song played every time you entered a room, what would it be?
Probably something like "Come and Get Your Love" by Redbone.
Who is your favorite cartoon character? Why?
Scooby Doo. He eats, has fun and hangs out with his best friend - nothing else. Zoinks!
Whats the weirdest dream youve ever had?
Some kind of lucid dream where I could open a pause menu to alter the dream.
What two languages would you like to be fluent in?
Japanese and German for sure.