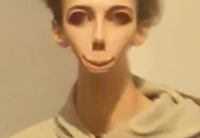 Atita is from Montevideo, Montevideo, Uruguay.
Ten Answers
If you were in the circus what kind of performer would you be? (Clown, tight-rope walker, etc)
My mom always told me, "...if you want to be a clown go work at a circus".
What are two things you would do if you woke up to find yourself completely invisible?
Probably make my way through hollywood (movie star), and be naked all the time.
Whats something you always wanted to do as a child but never got to do it?
Mmm... Skateboarding.
If you could bring one fictional character to life, who would it be?
Jesus Christ.
If you inherited a single room off-the-grid cabin in the woods, would you be excited or disappointed?
Pretty excited cause I can go to the woods and be alone, completely completely completely alone.
Do you believe in Bigfoot?
Yes.
Have you ever been scared enough to wet your pants?
Yes. I saw bigfoot.
What do you think phones will be like in 10 years?
Like there are today. We've reached a limit (technologically) I think. They'll probably be faster and "smarter", but still.
Who would you hate to see naked?
My dead grandmother.
What fashion trend do you wish would come back?
Vintage clothes. Oh wait.