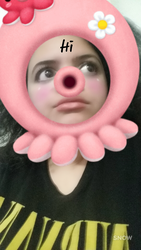 BeefyBoi is from Wichita , Kansas, United States.
Twelve Answers
What was your favorite color or Crayola crayon growing up?
Brick red
If you had to eat one thing from McDonalds, every meal for a week straight, what would you chose?
McWrap
What country would you never want to visit?
Britain lol
What is something you are currently obsessed with?
Red Hot Chili Peppers
Have you ever been scared enough to wet your pants?
No
If you could have one superpower, what would it be and why?
Shapeshifting because I could be anything I want whenever I want
What's the worst thing you ever did as a child and what was your punishment?
undefined
What two languages would you like to be fluent in?
French and Russian
What song would you sing for your American Idol audition?
undefined
What famous historical figure would like to fight?
Mlk don't @me
How many slices of pizza are you capable of eating in one sitting?
Like 5
Which would be harder for you to give up: coffee or alcohol?
Coffee