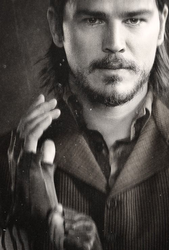 Chimera is from San Antonio, Tx, United States.
Twelve Answers
What is the weirdest scar you have and how did you get it?
Got a scar running up my left leg from a motorcycle accident.
If you could rid the world of one disease what would it be?
Stupidity.
If you could bring one fictional character to life, who would it be?
Ethan Chandler from Penny Dreadful
Youre in prison with a life sentence, what was your crime?
Murder
If you were offered the position of mayor of your city, would you take it?
No
If you were in the circus what kind of performer would you be? (Clown, tight-rope walker, etc)
Marksman or knife thrower
Which Disney princess do you find to be the most attractive?
Ariel
If you had to spend the rest of your life as a tree what kind of tree would you be?
Ironwood
What insect do you wish would completely go extinct?
Fire ants, duh.
If you could start a collection of one kind of item, what would it be?
15th century jaeger rifles from Germany.
What kind of phone was your first cell phone?
Slider
Whats your least favorite fast food restaurant?
All of them