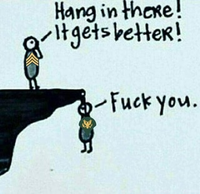 Grizzly666 is from Deland, Florida, United States.
Eight Answers
If you could rid the world of one disease what would it be?
Liberalism
What insect do you wish would completely go extinct?
filthy mixers
Describe your own personal hell.
disney on ice
Describe your perfect sandwich.
FOIC
If you could choose your age forever, what age would you choose and why?
FOIC
If it were possible, would you live on the moon?
FOIC
If you found out you were the direct descendant of a king or queen, would that boost your self esteem or have no affect on you at all?
FOIC
Have you ever pooped your pants? (not including when you were a baby)
FOIC