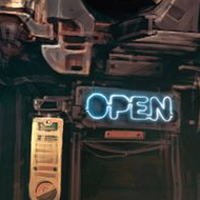 KikiDiki is from Toronto, Ontario, Canada.
Twelve Answers
If you inherited a single room off-the-grid cabin in the woods, would you be excited or disappointed?
Pleasantly surprised
What board game do you hate the most?
I remember having bad times with Sorry
If you had to choose to live without one of your five senses, which one would you give up?
Smell
Have you ever pooped your pants? (not including when you were a baby)
One time when I was a teenager, my grandmother tried to give me a cure for my constipation. It worked too well.
What famous historical figure would like to fight?
Whichever one of them was evil and also physically weaker than me.
If you could start a collection of one kind of item, what would it be?
Video games.
Whats the worst job you've ever had?
I only ever really had one job and it was a very mixed bag.
Have you ever chased down an ice cream truck as an adult?
Yes.
What skills do you posses that could help you survive the zombie apocalypse?
My size? My heft could come in handy for something somehow I guess.
What is your favorite sport in the Winter Olympics?
Skiing I guess. I'm not into sports.
Describe your own personal heaven.
A beautiful beach with a lovely little town made up of nice friendly people. Every meal is uniquely delicious. Pain and illness is all managed easily with harmless, non-addictive meds. VR is perfected and every video game is GOTY. Internet connections are always perfect.
If you could bring one fictional character to life, who would it be?
Koro-Sensei