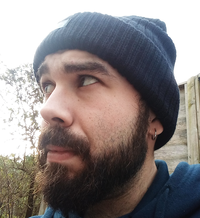 Koko is from Bilbao, Biscay, Spain.
Seven Answers
Have you thrown up in a car?
No. I've thrown up in plenty of toilets though. One might say I'm a master.
What country would you never want to visit?
Mordor.
If you had to spend the rest of your life as a tree what kind of tree would you be?
One that could move.
What is your favorite sport in the Winter Olympics?
Not watching the Winter Olympics.
What is your guilty pleasure?
Third degree murder.
Whats the dumbest thing youve ever cried about?
An Ewok dying in Star Wars.
What skills do you posses that could help you survive the zombie apocalypse?
I taste horrible.