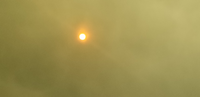 Mira is from Portland, Oregon , United States.
Four Answers
What was your favorite color or Crayola crayon growing up?
Burnt Umber. The bougiest brown ever.
What do you think phones will be like in 10 years?
After several lawsuits involving "smartphone neck", there's going to be some kind of heads up display. Car insurance will offer discounts on phone disablers installed in cars. Until battery tech catches up, we'll just go up and down in size and flip vs nonflip nonsense
What skills do you posses that could help you survive the zombie apocalypse?
I throw axes for fun and I've got three ways to make a fire in the rain (cussing is required for all of them)
What is the last book you read?
The Complete Guide to Fasting by Dr. Jason Fung.