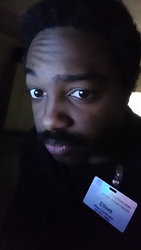 ephesian is from Tampa, Florida, United States.
Four Answers
If you could bring one fictional character to life, who would it be?
I would bring Kusanagi from Ghost In The Shell to life.
If you were in the circus what kind of performer would you be? (Clown, tight-rope walker, etc)
Acrobat for sure.
Whats your favorite viral YouTube video?
Video of people surviving at great odds.
What was your first CD and when did you get it?
First cassette was Soundgarden