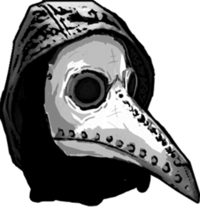 plaguelife is from Roswell, NM, United States.
Six Answers
What would you do if you were the lone survivor of a plane crash?
scavenge everything, retain water, debate the right way to cook human flesh.
Would you rather be a hobbit or an elf for 24 hours?
hobbit, nothing but smoking pipeweed and eating second breakfast.
If you could be on the cover of any magazine which one would you choose?
Fangoria
Whats the worst job you've ever had?
either tech support or convenience store clerk, or some nightmarish combination of the two
What two languages would you like to be fluent in?
sarcasm and sexual innuendo
Would you become a professional bank robber if you knew you would never get caught?
only one way to find out...