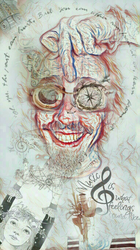 pokaspars is from Meldorf, S-H, Germany.
Nineteen Answers
If you could bring one fictional character to life, who would it be?
Howard
If you could start a collection of one kind of item, what would it be?
None
Describe the worst haircut you've ever had.
None
Would you become a professional bank robber if you knew you would never get caught?
It is madness
Whats your favorite viral YouTube video?
What is youtube
What is one thing you refuse to share?
my soul
Have you ever been scared enough to wet your pants?
no i am rambo! maybe when my dad beat me up, i tend to forget such things...
On a scale from 1-10 whats the highest level of pain youve ever been in?
5
If someone wrote a biography about you, what do you think the title should be?
None
What is your guilty pleasure?
Pity
What bad habit do you have that you know you need to break, but dont really want to?
Dualism
What is your favorite sport in the Winter Olympics?
Mountaincrawling
If you could break any world record which one would it be?
my own
Whats the weirdest dream youve ever had?
here we are
Who was your first celebrity crush?
fuck you
Who is the most famous person you have ever met?
i cant tell
Do you believe in Bigfoot?
of course
Have you ever pooped your pants? (not including when you were a baby)
still funny