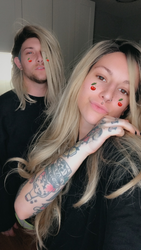 spookybiitch is from CryTown, IL, United States.
Six Answers
If you were offered the position of mayor of your city, would you take it?
Honestly, no. I feel I have some great ideas to help the LGBTQ community but i am far too angry when things dont get done to be in and goverment standings.
Youre in prison with a life sentence, what was your crime?
Liberating animals from slaughterhouses then setting the buildings on fire so it was harder to rebuild them.
What insect do you wish would completely go extinct?
The lovely Mosquito, though it would mess up the ecosystem pretty badly so maybe none of them.
What song would you sing for your American Idol audition?
Tightrope-LP
If you were in a witness protection program, what would be your new name and where would you go?
Zelda, and London, Greece, or Germany
If you had to eat one thing from McDonalds, every meal for a week straight, what would you chose?
Their apple pies, I am vegan and that is the only thing I can eat from there.