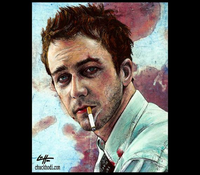 Robespierre1789 is from Chicago, Illinois, United States.
Twenty Answers
What scene from a non-horror movie scared you as a child?
undefined
If you could got back in time 1,000 years, what year would you visit?
1789
Has anyone ever saved your life?
I would certainly have been hit by a car without being saved by multiple people.
What two languages would you like to be fluent in?
Spanish, Japanese
Whats the weirdest dream youve ever had?
undefined
If you could go back in time and change history, what would you change?
I would have killed Genghis Khan.
If money were no object, where in the world would you choose to live?
Brooklyn
Whats your favorite viral YouTube video?
undefined
If you had to spend the rest of your life as a tree what kind of tree would you be?
undefined
What is the weirdest scar you have and how did you get it?
One on my hand from SCUBA diving. I will never dive again.
Whats something you always wanted to do as a child but never got to do it?
Studying abroad.
If you inherited a single room off-the-grid cabin in the woods, would you be excited or disappointed?
Excited.
Would you rather be a judge or a lawyer?
Lawyer.
What was your first CD and when did you get it?
Green Day's Insomniac.
Who was your first celebrity crush?
undefined
Describe your own personal heaven.
Being able to time travel.
What is your guilty pleasure?
Sindome.
What's the worst thing you ever did as a child and what was your punishment?
undefined
Describe your own personal hell.
Looking for my keys before I leave the house and never finding them.
What board game do you hate the most?
Chutes and ladders.