I don't like to hold on to everything. I like to find good homes for my electronics, but I've been reluctant to get rid of my iPhone 4S because it has a very special phone case on it. But it occurred to me, that you would appreciate it and I could let one of you have it.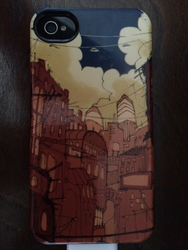 This was something Amika Sterling (@glittervolt) drew and made available online a few years ago. It's a beautiful view of the mix and quite artist. The case was well used and the corners show a tiny bit of noticeable wear, but the art stays on these cases extremely well. I'm not saying you can't scratch it off, but this was my daily use phone for two years in this case.
The phone itself is in great shape, no scratches, cracks or anything that doesn't work. It's loaded with iOS 7.1.x but I'm sure I'll be able to upgrade it to iOS 8 before we conclude the contest. It will not come with my songs and apps, but I can share the wallpaper if you want it.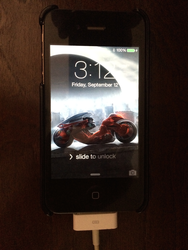 So, now how do you win it? Play the game, get out and RP. The more you RP with each other, the more entries you'll have. When the contest is over, we'll pick a winner out of the pool of all entries. A lot of the things you do every day in the game will give you entries, so I expect the total number of entries to be quite high. In fact, you've already been accumulating tonight since you connected!
I can you that the more people involved, the better it is for everyone -- so you're really encouraged to tell those friends who haven't been on in a while to come back and RP with everyone. In our classic fashion, we won't elaborate any further on what those things are.
We'll run this contest for the next month, concluding on October 12, 9pm PST!