So, I figured I'd put this in Anything Really because it's not an idea, or even a game mechanics discussion. I'm trying to start a fluff discussion. Or as mmorpg fans might like to say, a "lore" discussion.
Since my character has been a Judge (I think I can say that safely without breaking any rules by now), the WJF Enforcer II has intrigued me and confused me.
What does it look like? How the fuck does it work? Many will say "meh, it's a game". Some might even say
But this discussion isn't for those people. They're for people who ask the question:
If any admin have input, it would be greatly appreciated as well. After all, you guys decide what goes.
But before we can get into that, we have to figure out what it fires. And how it fits 30 of them into a single magazine.
The pistol mode of the WJF Enforcer fires 13mm rounds. This is approx. equivalent to .50 cal. There are quite a few .50cals. The most known handgun .50 round is the AE, it actually clocks in closer to 12.7mm but caliber names are often misleading as to exact measurements.
The Desert Eagle .50AE mag is pretty fucking huge and it only holds 7 rounds - but it's also a single-stack. If it were double-stacked, the weapon would require even bigger mitts to hold properly.
This is what cartridges around this calibre look like:
I can't see a mag double-stacking these fitting in the grip, let alone such a mag *and* a second one loading 7mm rifle rounds.
The weapon's description reads "The twinned ammo magazines bulk out the rear of the weapon". Now, an idea occurred to me while I was thinking about this, along with the size of the mags. The weapon could have some kind of interesting feeding mechanism that rotates rounds into place and then feeds them into the chamber built into the grip while the two mags stick out the rear of the grip and serve as a sort of stock.
Could have a similar profile to the C96:
Or the fucking hideous VP70: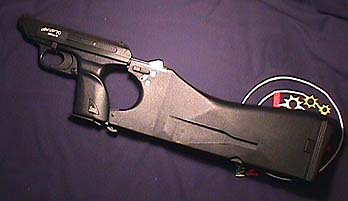 Except in these two weapons, the stock isn't a pair of mags but rather the holster. But really, a 13mm mag that widens a bit at the base and has some rubber padding would still be more comfortable than the stock on a Skorpion:
This would solve both the fuckhuge grip problem and the mag length problem. All that would be left is to devise a feeding mechanism built into the grip that rotates and feeds that single round. Something like the spiral feed ramp in the FN P90?
This image is linked because it is fuckhuge:
http://upload.wikimedia.org/wikipedia/commons/a/aa/FNP90MAG01.JPG
I would see the rounds being vertical in this case rather than horizontal, so the disc can rotate inside the grip.
Any one else have thoughts on this?

(Edited by Murphy at 4:35 am on Sep. 26, 2011)