Hi All!
I'm super thrilled to announce that I've published a ~60 page Noir Cyberpunk ebook, and it's available on Amazon for 99 cents!
https://www.amazon.com/dp/B08R92J763
This is a prequel novella that I'm putting out in advance of my full length novel. It's about a man on the run who's caught between two local powers on the outskirts of a city called Neotopia. A city where skyscrapers hover on the power of human thought alone. He's given a strange mission that may get him killed, but he's got no option but to pursue it.
The series is heavily influenced by William Gibson (Neuromancer), and Raymond Chandler (The Big Sleep). I'm trying to strike a balance of gritty and fun and people seem to be responding well so far! Slither OK'd me to post this on the forums, so here it goes! I'm almost topping out in a few cyberpunk categories and am thrilled.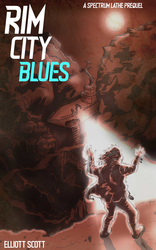 If you've got a second to take a peek that would be awesome. Thanks for all the RP everyone, and happy holidays!